[spb_row element_name="Row" wrap_type="content-width" row_bg_type="color" color_row_height="content-height" bg_type="cover" parallax_image_height="content-height" parallax_image_movement="fixed" parallax_image_speed="0.5″ bg_video_loop="yes" parallax_video_height="window-height" parallax_video_overlay="none" row_overlay_opacity="0″ row_padding_vertical="0″ row_margin_vertical="0″ remove_element_spacing="no" vertical_center="false" inner_column_height="col-natural" row_expanding="no" row_animation="none" row_animation_delay="0″ width="1/1″ el_position="first last"] [spb_column width="1/4″ el_position="first"] [spb_image image="12588″ image_size="full" frame="noframe" caption_pos="hover" remove_rounded="yes" fullwidth="no" overflow_mode="none" link_target="_self" lightbox="yes" intro_animation="spin" animation_delay="200″ width="1/1″ el_position="first last"] [/spb_column] [spb_column width="1/2″] [spb_text_block animation="none" animation_delay="0″ simplified_controls="yes" custom_css_percentage="no" padding_vertical="0″ padding_horizontal="0″ margin_vertical="0″ custom_css="margin-top: 0px;margin-bottom: 0px;border-top: 0px default ;border-left: 0px default ;border-right: 0px default ;border-bottom: 0px default ;padding-top: 0px;padding-left: 0px;padding-right: 0px;padding-bottom: 0px;" border_size="0″ border_styling_global="default" width="1/1″ el_position="first last"]
PAT SHAND writes comic books (Robyn Hood, Family Pets, Charmed, Angel) and pop culture journalism (Sad Girls Guide, Blastoff Comics).
PREVIEWSworld Exclusive:
Pat Shand Is The New Workhorse At Zenescope
by Vince Brusio
[sf_button colour="accent" type="standard" size="standard" link="http://www.previewsworld.com/Home/1/1/71/950?articleID=125258″ target="_blank" icon="fa-external-link" dropshadow="no" rounded="no" extraclass=""]Read Full Article[/sf_button]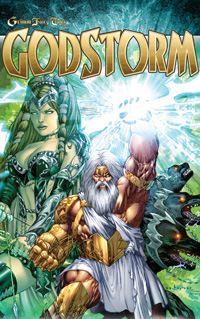 Zenescope Entertainment is about to unroll new titles, and some of those books include Robyn Hood and Godstorm from writer Pat Shand. His work schedule, to say the least, is full. But Pat is not only driving the train on two new titles for Zenescope, he is also the company's first full-time exclusive writer. In this PREVIEWSworld Exclusive interview, Pat took time to answer a few questions on what goes on inside his mental file cabinet.
PREVIEWSworld: Pat, it's safe to say that if you're working full-time on both titles you have little time for anything else. Give us some insight as to what at typical day is for you as Zenescopes's first full-time writer.
Pat Shand: It's a juggling act. I teach Screenwriting, Script Writing, and English at Five Towns College, so I still spend as much time grading papers and reading screenplays and plays as I do writing the adventures of Robyn and the drama of the Greek Gods.
When I clear the deck for writing, though, I tend to lean more toward the frenetic. I'll have the outline and I'll really just become this mess of dialogue and ideas just flowing onto the page, which I'll then structure, page by page and panel by panel, into a script. I can't just have a partial script sitting around for long – it bounces around in my head, reminding me that it's there until I get it out. And I love that. Story is both my release and my passion, and I've been lucky enough to make a career out of it with Zenescope.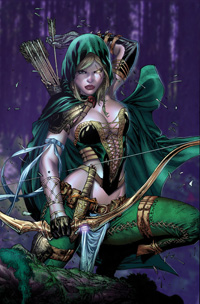 Another fun part of the job, though, is this kind of stuff. All throughout the day, I'll get e-mailed or called with questions, suggestions, articles, offers, and – best of all – art. I've been getting art for four projects all throughout this month, and I couldn't be happier with the teams Zenescope has assembled for my projects.
PREVIEWSworld: How did you land this gig at Zenescope, and how did you first pitch your ideas for Robyn Hood and Godstorm?
Pat Shand: I got Ralph Tedesco's attention by e-mailing him last June, showing him some samples of my work, including an Angel story I did for IDW Publishing. He liked it and hired me to write some of their 1000 Ways to Die tie-in graphic novel, and then ended up putting me on some Grimm Fairy Tales one-shots like the Holiday edition in 2011 and this year's April Fools edition and Annual. I then started working with Raven Gregory, who sort of became my comic book Dumbledore – you know, just this really positive and guiding relationship, because he's been there. He's experienced it all, so he really helped lead me in the right direction.
As far as pitching those titles, they had already been planned by Zenescope. There were ideas, rough outlines, and concepts that Raven and I took and molded into something distinctively written by me while also staying in line with what Zenescope has planned for these characters and the shared universe.
PREVIEWSworld: Did you enjoy working with Zenescope's editorial team so that Robyn Hood and Godstorm "fit" in their universe?
Pat Shand: Yes, and that's my favorite part about writing for Zenescope. The continuity of a shared universe. A world united in story. I love that you can read my Annual, then Joey's Bad Girls, and Raven's Grimm Fariy Tales #75, Troy's Myths and Legends, and my Godstorm, and see Venus acting consistently; it's a way to do longform story arcs in a shorter period of time, and it's one of the best things about this medium of storytelling.
PREVIEWSworld: If you had to explain what makes writing comics such an attractive job for you, how would you best convey that sentiment?
Pat Shand: As a kid, I wrote Goosebumps fan fiction on a typewriter before I knew there was a name for that kind of thing. When I had no paper, I wrote titles of horror novels I would write on pieces of wood I'd taken from my karate class. I was born to write, and now I'm doing it.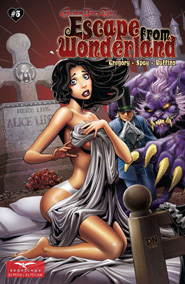 And the marriage of storytelling in art and text in comics has made this easily the best medium for story. I've written plays, films, and novels – but nothing satisfies me as creatively as comics.
Also, I get to write sound effects like "SPLORTCH." Who doesn't love that?
PREVIEWSworld: What comic books "back in the day" and those presently had/have an influence on your own style of writing?
Pat Shand: My first ever comic was Stephen King's Creepshow, so always that. Definitely. Alan Moore's Swamp Thing. Also Y: The Last Man. Brian Lynch's Angel: After the Fall. He showed me what you can do with a longform arc while slowly building on character and story, making each chapter its own wonderful payoff. Raven's Wonderland. Currently, Snyder's Batman and BKV's Saga. The Unwritten is also damn good, as is Whispers.
I read too many damn comics.
[/spb_text_block] [spb_raw_html width="1/1″ el_position="first last"]JTNDZGl2JTIwY2xhc3MlM0QlMjJ0ZXh0LXJpZ2h0JTIyJTNFJTNDZGl2JTIwc3R5bGUlM0QlMjJ0ZXh0LWFsaWduJTNBJTIwY2VudGVyJTNCJTIyJTNFJTNDdWwlMjBjbGFzcyUzRCUyMnNvY2lhbC1pY29ucyUyMHN0YW5kYXJkJTIwbGFyZ2UtaWNvbnMlMjIlM0UlMEElM0NsaSUyMGNsYXNzJTNEJTIyZ2xvYmUlMjIlM0UlM0NhJTIwaHJlZiUzRCUyMmh0dHAlM0ElMkYlMkZwYXRzaGFuZC50dW1ibHIuY29tJTJGJTIyJTIwdGFyZ2V0JTNEJTIyX2JsYW5rJTIyJTNFJTNDaSUyMGNsYXNzJTNEJTIyZmEtZ2xvYmUlMjIlM0UlM0MlMkZpJTNFJTNDaSUyMGNsYXNzJTNEJTIyZmEtZ2xvYmUlMjIlM0UlM0MlMkZpJTNFJTNDJTJGYSUzRSUzQyUyRmxpJTNFJTNDbGklMjBjbGFzcyUzRCUyMnR3aXR0ZXIlMjIlM0UlM0NhJTIwaHJlZiUzRCUyMmh0dHBzJTNBJTJGJTJGdHdpdHRlci5jb20lMkZQYXRTaGFuZCUyMiUyMHRhcmdldCUzRCUyMl9ibGFuayUyMiUzRSUzQ2klMjBjbGFzcyUzRCUyMmZhLXR3aXR0ZXIlMjIlM0UlM0MlMkZpJTNFJTNDaSUyMGNsYXNzJTNEJTIyZmEtdHdpdHRlciUyMiUzRSUzQyUyRmklM0UlM0MlMkZhJTNFJTNDJTJGbGklM0UlMEElM0NsaSUyMGNsYXNzJTNEJTIyZmFjZWJvb2slMjIlM0UlM0NhJTIwaHJlZiUzRCUyMmh0dHBzJTNBJTJGJTJGd3d3LmZhY2Vib29rLmNvbSUyRnBhdHNoYW5kJTJGJTIyJTIwdGFyZ2V0JTNEJTIyX2JsYW5rJTIyJTNFJTNDaSUyMGNsYXNzJTNEJTIyZmEtZmFjZWJvb2slMjIlM0UlM0MlMkZpJTNFJTNDaSUyMGNsYXNzJTNEJTIyZmEtZmFjZWJvb2slMjIlM0UlM0MlMkZpJTNFJTNDJTJGYSUzRSUzQyUyRmxpJTNFJTBBJTNDJTJGdWwlM0UlMEElM0MlMkZkaXYlM0UlM0MlMkZkaXYlM0U=[/spb_raw_html] [/spb_column] [spb_column width="1/4″ el_position="last"] [spb_widget_area sidebar_id="sidebar-3″ width="1/1″ el_position="first last"] [/spb_column] [/spb_row]